Update 9/19 : Lightened up on Abbvie (ABBV) in low 90s with news of CA lawsuit on Humira kickbacks.
Amgen (AMGN) hits 52 week high in $204 range, strong hold up 14.9% YTD.
GW Pharmaceuticals (GWPH) rallies 6.61% to $159 for second day on cannabis trading frenzy; up 18.7% YTD with market cap $4.5B vs $15.85B for TLRY.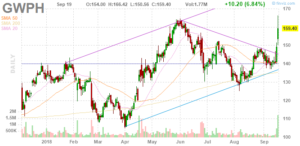 ======
Update 9/18: MACRO pivots on FED and Q3 earnings; Cannabis Products
XBI stops slide at key support level around $95+; IBB at SMA 50.
High times continue for Tillray (TLRY) up 28.95% to $155 as more cannabis extracts move to the clinic; GW Pharma (GWPH) moves up 5.86% to $149.20, a leader with several clinical stage products and one FDA approved product from their cannabinoid platform.
Mid-caps regain momentum across the board with notable movers: ARRY CRSP GWPH EXEL LGND NVCR.
Tesaro (TSRO) up 2% to $35.77 with bullish call option set-up at $35 strike price.
Need to be more stock selective not just hold ETFs.
===========
Biotech Weakens Further Off 5-6% From August 31 Highs
All Major Biotech ETFs In Distribution Mode–See Large Cap Sell-Off 9/4
XLV Holding Near Highs; But XBI Sold off 9/10 Days in September
Jitters about trade and new $200B tariffs on China goods kept buyers away. NASDAQ was the weakest exchange down 1.43% and biotech stocks edged down in sync as risk appetite waned. The caution was supported by the backdrop of stories about the 2008 financial crisis and recent political drama about the SCOTUS nominee. It is almost a cliche that September is a weak month but the strong August may have encouraged traders to ignore potential geopolitical events. Nonetheless if earnings for major biopharma holds for Q3 showing good growth, the sector can get back on track with some M&A and major product approvals. So no alarms have gone off yet. For the more volatile and speculative XBI we are just touching 3 month lows still up 8% YTD.
Mid-Cap Biopharma Stocks Have Strength But Are Volatile
Mid-Cap stocks are the best performers YTD leading the market up since ASCO in June but many have sold off. We will update our Mid-Cap Watch list in early October but here are some winners still near 52 week highs: ICPT LGND NBIX  NVCR RARE SGEN. This is not a buy list but more of a check on overall market momentum because these are the future growth stocks in biopharma and potential M&A candidates. The weakest near  52 week lows are: ACAD BLUE BPMC CLVS EXEL INCY FOLD IONS.Many of these stocks have lost momentum since hitting highs in June or July when the XBI was in $101 range.
By the end of September major funds will have re-balanced their portfolios and we can better gauge individual stock strength.
We recommended mid-cap Tesaro (TSRO) based on technicals and fundamentals in the the $32-35 range now at $35 but must hold $30 for longer term investors.
Disclosure long TSRO.