Updates:
7/19 pm… Abbvie (ABBV) takes a 4.7% hit on Citron short seller call. Basis for call would be pressure from FDA and Scott Gottlieb concerning stalling by drug companies on biosimilars. Many reports cite biosimilar risk to blockbuster Humira.
Merck succumbs to Trump pricing pressure with a minor Hep-C drug.
Mid-caps mainly green, large caps red.
7/18 am….Novartis (NVS) holds the line on price increases but sales outlook may ratchet up; Q2 profits are up to $3B, Sales climbed 5% to $13.16B, psoriasis drug Cosentyx jumped 40% to $701M. Stock is recovering today off June lows up 2.5% to $80.65 level.
============
Biotechs Cruise in July Approaching New Highs
Mid and Small Caps Remain Strong With Clinical Updates and M&A Potential
Biotech Bull Market Intact Tracking NASDAQ and Beating S&P
Biotechs cruised through the choppy market of late June to rally with many mid-caps rolling up and major ETFs up creeping toward 2018 highs. However, with earnings reports for large caps coming up over the next two weeks we could expect some selling depending on top line growth.Trading has been volatile but very profitable, for example the gene editing stocks. Many small caps have made big moves in 2018 like Endocyte(ECYT) up 269% YTD on its personalized cancer treatment with companion imaging for prostate cancer with PSMA positive scans. Tariff concerns and  tweets remain a risk to the market but M&A and clinical milestone news can boost biotech stocks.
JNJ was up 3.54% today after reporting and this undoubtedly helped the sector as their Pharma business was strong with 19.9% sales growth.
FBT up 1.13% to $150.71 a 2018 high, IBB up 0.75 % to $118.37, XBI up 1.45% to $100.35. The FBT is a leader up 18.26% YTD.
Mid-Caps mainly in green with top winners: ACAD up 7.65%, CRSP up 3.25%, NBIX up 3.16%, BLUE up 2.31%, ICPT up 2.82%. Novacure (NVCR) soared 11% this month and is now up 75% YTD! All of these stocks are on our Mid-Cap watch list.
Gene editing stocks recovered from yesterday's sell-off caused by a scientific report on DNA damage: CRPT up 3.25% to $62, EDIT up 3.58% to $36.46, NTLA up 6.81% to $31.36.
Large caps (IBB) are still lagging the mid and small caps but top performer VRTX is back to new highs and CELG is recovering off 2018 lows of 5/21 near $74.
Blue chip AMGN is up 9.56% YTD besting the IBB; BIIB is up 6.23% off 2018 lows primarily because of the Alzheimer Disease clinical candidate BAN2401 which slowed disease progression.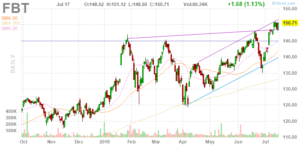 We remain bullish but are not adding new long-term positions until Q2 earnings come in.
Disclosure: Long ABBV, CELG, FBIOX, GILD, JNJ, MRK and several small caps.